How to identify a meteorite ?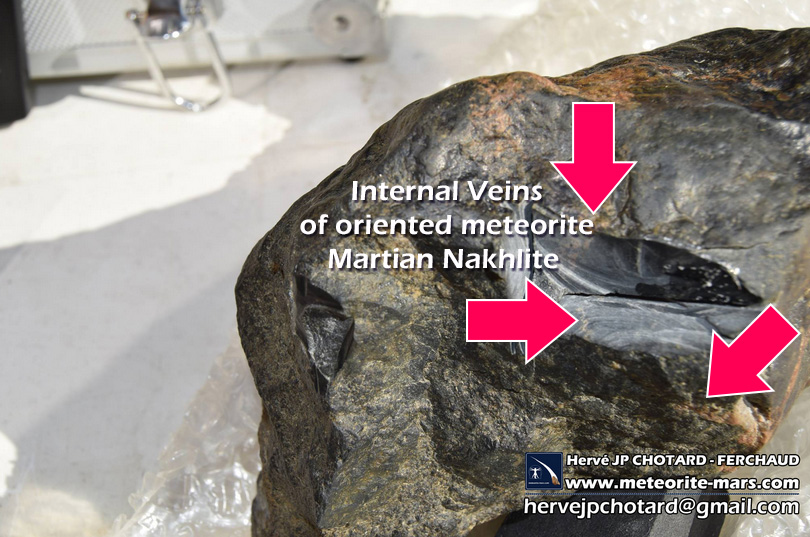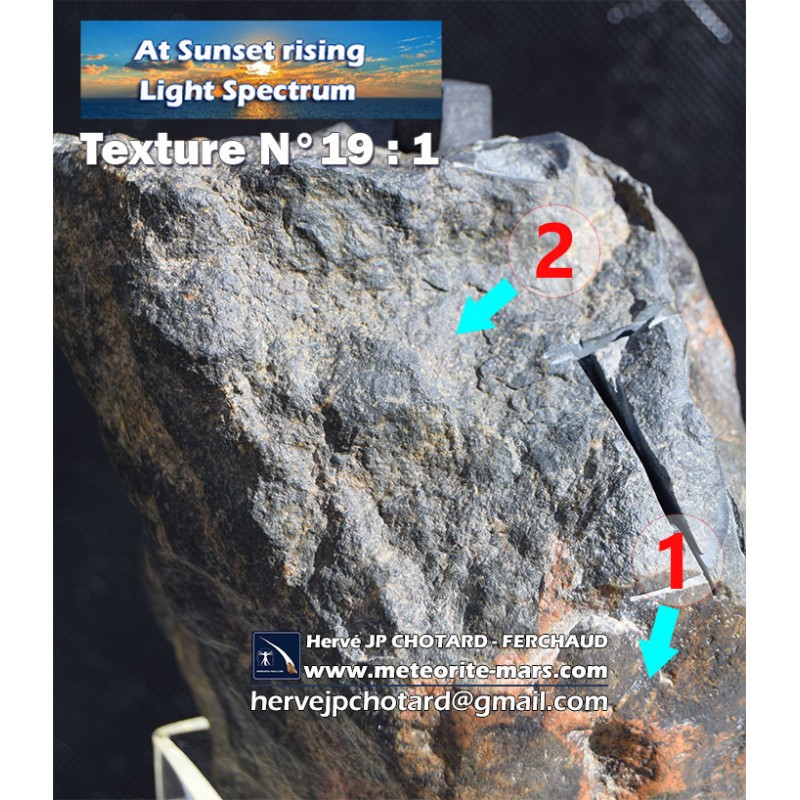 meteorite crust fresh veins fusion colors red orange


https://www.facebook.com/

pg/HervejpChotard/photos/?
thank s !!


tab=album&album_id=1174500

596013257
New Mars Meteorite Found In Morocco (NWA 817) intern vein shock oriented meteorite NWA 817 and Oriented meteorite Chizé from Mars !! Naklite !!
gbar.gif

Northwest Africa 817 (NWA 817)
NWA 817
nwa817_3_s.jpg Photo © Bruno Fectay & Carine Bidaut THANK S !!

A Mars meteorite stone (nakhlite) weighing 104 grams. This is a nice oriented specimen with a dark fusion crust.
NWA 817
nwa817_1_s.jpg Photo © Bruno Fectay & Carine Bidaut
JPEG (96K)
A section cut out of the main mass showing the interior.

THE METEORITICAL BULLETIN
Announcement 85-5, May 23, 2001
Jeffrey N. Grossman, Editor (jgrossman@usgs.gov)
Jutta Zipfel, Co-editor for Saharan Meteorites
(zipfel@mpch-mainz.mpg.de)

Northwest Africa 817
Morocco
Found 2000 December
Martian meteorite (Nakhlite)
A 104 g stone was found in the desert of Morocco. Classification and
analysis (V. Sautter, MNHNP; J. Barrat and M. Lesourd, UAng; A.
Jambon, UPVI; P. Gillet, ENSL; C. Gvpel and J. Joron, IPGP): an
unbrecciated, medium-grained, olivine-bearing clinopyroxenite with
cumulate texture; consists of zoned, euhedral, subcalcic augite (Wo38-
40 En38-27Fs24-34 and Fe/Mn = 39-31), olivine (zoned from Fa57 in
cores to Fa86 in rims, with Fe/Mn = 54-43) with crystallized magmatic
inclusions, and a three-component intercumulus mesostasis (glass
including minute amounts of sulfide droplets, Ti-magnetite with
unusual skeletal morphology containing ilmenite exsolution, and
acicular pyroxene); mineral modes (vol%), pyroxene = 69, olivine =
15, mesostasis = 15, and Fe-Ti oxides = 1; alteration (probably pre-
terrestrial) produced a hydrous ferrous silicate both in olivine and
in the glassy mesostasis; bulk major-element composition similar to
other nakhlites; element ratios confirm Martian origin (FeO*/MnO =
37, Na/Al = 0.40, K/La = 449, Ga/Al = 3.9x10-4); has a higher
proportion of mesostasis than other nakhlites; displays the highest
Th, U and rare earth elements (REE) concentrations ever reported for
a nakhlite (e.g. Th = 0.6 ppm); REE pattern characterized by a strong
light REE enrichment (Lan/Ybn = 4.89), and Eu/Eu* = 0.90. Oxygen
isotopes (M. Javoy and E. Petit, IPGP): D17O = +0.4 permil.
Specimens: 10 g, ENSL; main mass with B. Fectay and C. Bidaut.

Return to the Mars Meteorite Home Page
Thank s !!


https://www2.jpl.nasa.gov/

snc/nwa817.html
Northwest Africa (NWA 817) is a 104 g single stone found in the Sahara (Morocco) by meteorite hunters in November 2000. The meteorite is a non-brecciated medium grain olivine clinopyroxenite with a cumulative texture. It consists of a zoned eucalyptus subzealous augite (Wo42En38-22Fs20-36), olivine covering a wide range of compositions (from Fa56 in the nucleus to Fa86) with rare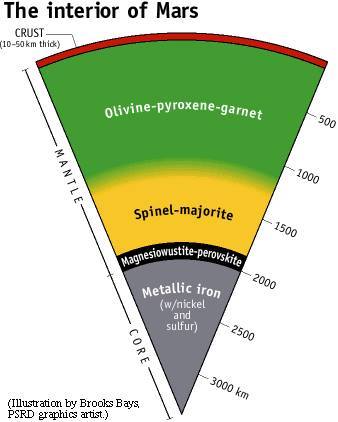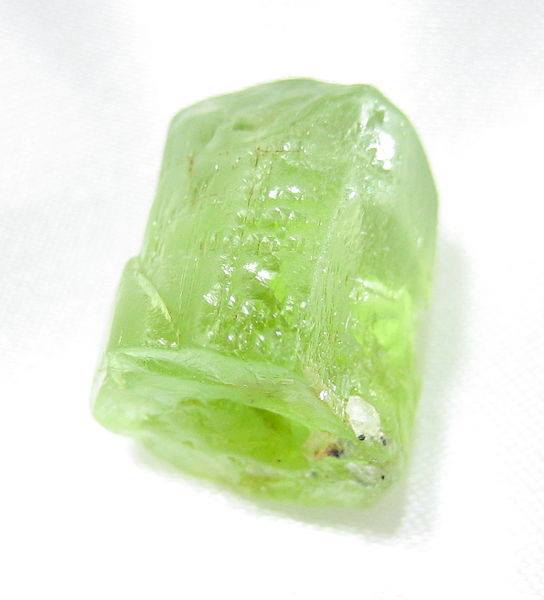 OLIVINE ON MARCH meteorite-mars.com Mars, a planet too rich in olivine?

By the 29.05.2005 at 23:17, updated on 29.05.2005 at 23:17
The discovery of a very large Martian region rich in olivine strengthens the arguments of those who do not think that water has poured one day in abundance on the surface of Mars.

Philip Christensen (University of Arizona) and Victoria Hamilton (University of Hawaii) claim that in the volcanic region near Syrtis Major, olivine deposits extend over more than 110,000 km2, almost four times as much. we did not think. Olivine, a silicate of iron and magnesium of green color, degrades very rapidly in the presence of water.

The presence of a large amount of olivine in this ancient region of Mars would mean that water was very little present. Olivine deposits were first discovered using data from the Mars Global Surveyor. They were then supposed to extend over approximately 30,000 km2.

This time the researchers used data from Mars Odyssey's Thermal Emission Imaging System (THEMIS). They publish their results in the journal Geology https: //www.sciencesetavenir.fr /.../ march-a-planet-too ... month of June.

This is not the first time researchers have relied on the data from these two orbiters to paint a dry, cold picture of Mars's past.
In an article published in Science in 2003, Christensen and his colleagues pointed out the absence of large expanses of carbonates, sediments whose presence would have testified to the past presence of oceans on the surface of Mars. This finding was confirmed by the team of Jean-Pierre Bibring (IAS / CNRS), who analyzed the data taken by the Omega camera Mars Express, spreading a little more the idea of ​​a hot and humid past in the world. childhood of Mars.

Cécile Dumas
(30/05/05)
OLIVIN AND PYROXENE DIVERSITY IN THE CRUST OF MARS
Mustard J.F., Chicken F., Gendrin A., Bibring J.-P., Langevin Y., Gondet B., Mangold N., Bellucci G., Altieri F.
Science

Summary: Data from the Observatory for Mineralogy, Water, Ice, and Activity (OMEGA) on the Mars Express spacecraft identify the distinct mafic, rock-forming minerals olivine, low-calcium pyroxene (LCP), and high -calcium pyroxene (HCP) on the surface of Mars. Olivine- and HCP-rich regions are found in deposits of the age range of geologic units. However, LCP-rich regions are found in the ancient Noachian-aged units, which suggests that they are derived from aluminum and calcium. Extended dark areas in the northern plains exhibit no evidence of strong mafic absorptions or absorptions due to hydrated materials.
thank s https://mars-express.cnes.fr/.../publis/abstract_publi6.htm
Posted in: Sciences
About: atmospherecartographyPlanetary ExplorationMarsMars Express
AT A GLANCE
HOME
IN DEPTH
MISSION
SATELLITE
INSTRUMENTS
CONTACTS
OTHER SITES
FOR PROFESSIONALS
PUBLICATIONS
SCIENTIFIC RESULTS
THE LATEST NEWS FROM THE MISSION

[BOOK] FOR THE BEACH THIS SUMMER: "SCIENCE IN COUNTERPIECE"
A unique book to immerse the reader in the permanent astonishment of research, associating accessible texts, drawings and original videos with a QR code.

June 13, 2017

[BOOK] RE-RELEASE OF "MARCH, A PHOTOGRAPHIC EXPLORATION"
The beautiful book of Martian photos released in 2013, co-authored by Francis Rocard (responsible for the exploration programs of the Solar System at CNES) is the subject of ...

May 16, 2017

ON THE TRACES OF A TSUNAMI MARTIAN OLD 3 BILLION YEARS
Thanks to images from Mars Express and MRO, French scientists reconstruct the scenario of an old Martian tsunami

May 9, 2017
Meteorite olive green color
Thank's to to
https://mars-express.cnes.fr/fr/MEX/publis/abstract_publi6.htm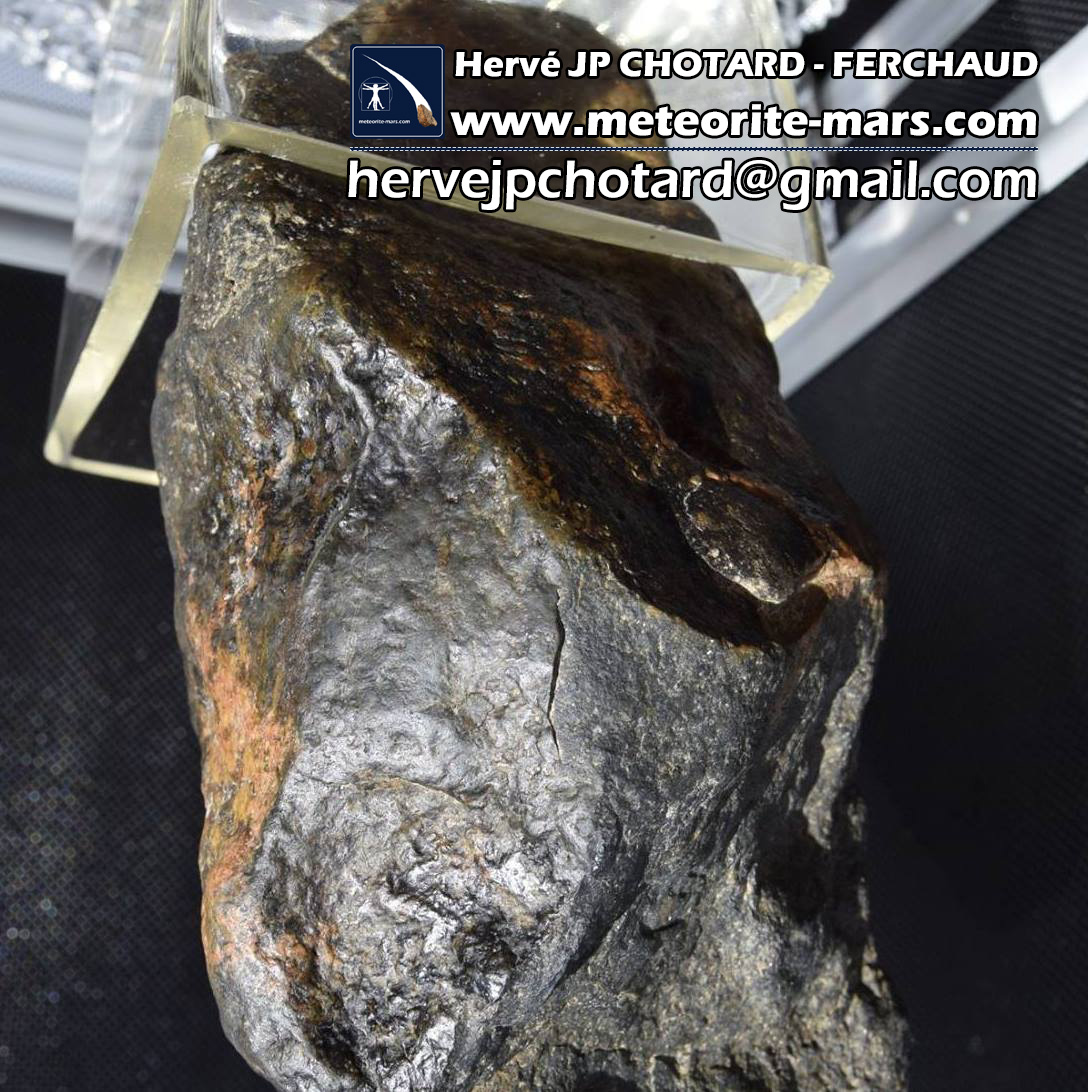 CRASH ... HUNTING ORIENTED !!!!! .... MARTIAN METEORITE Chizé Meteorite of Mars from November 05, 2012 ..... Compare ... textures website nirgal gold Imca GOOD TO COMPARE Textures iron rock !! photo by Hervé jp Chotard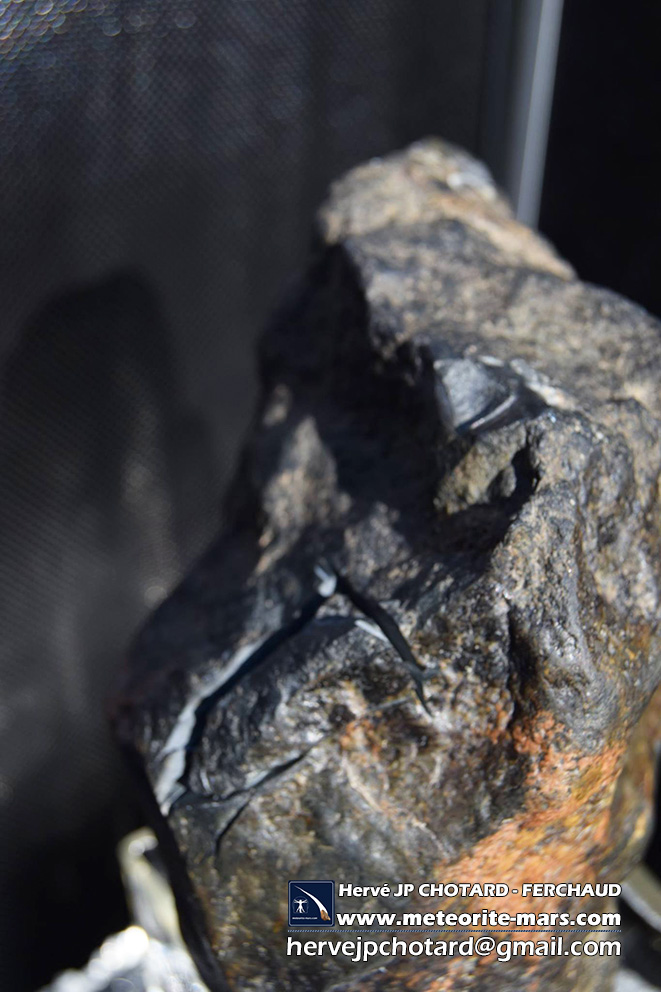 Hervé JP Chotard type Oriented main mass 2333 grams of November 05, 2012 photo at the top right in the shape of a triangle ...
sample Number 1 of 1.24grs with traces ... of amphiboles .... for research ..... bottom left sample N ° 2 of 6.47 grams minerals with melt crust .... very rare ... This accredits a long journey in the terrestrial atmosphere ... on 18 known witnesses website ceidehom and surveillance camera in Caen France photo spectrum light sun midday hervejpchotard@gmail.com
Échantillon croute de fusion météorite chizé de mars N°2 de 6,47 gr qui sera fractionné en 0.16 gr.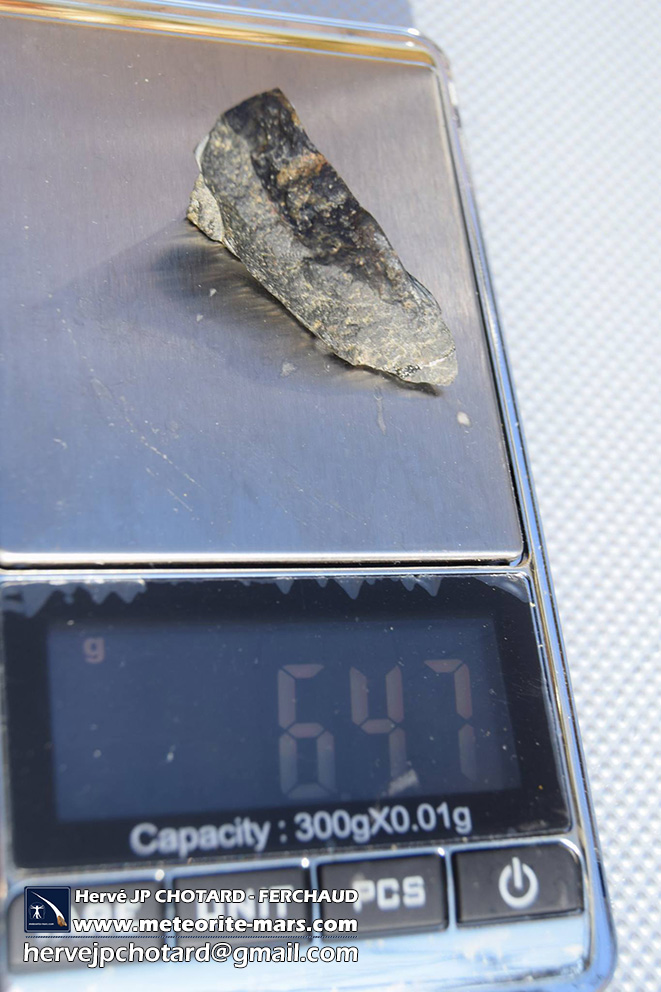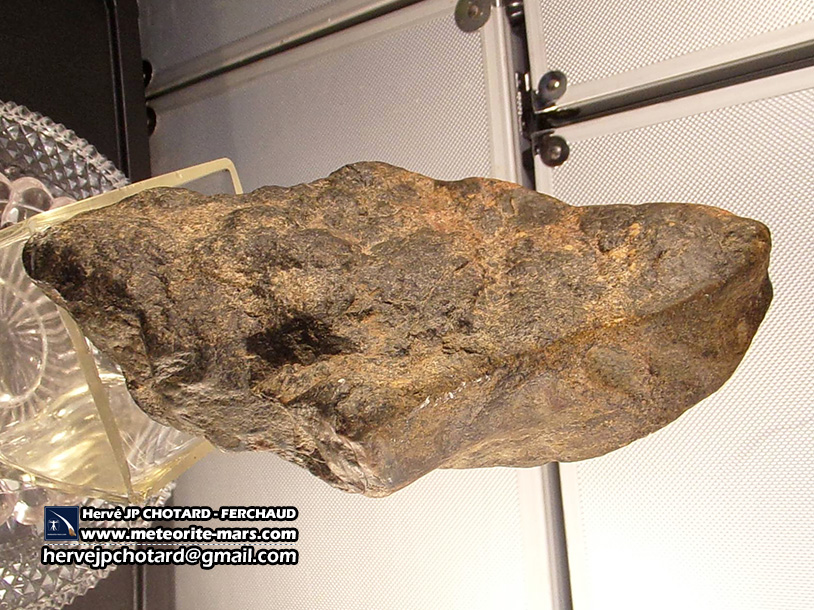 Oriented Meteorite Chizé of Mars of November 05, 2012 type SNC ORIENTEE main mass 2333 grs ....

ORIENTED METEORITE from France route over 18 witnesses 800 km 1 er known separation over Niort France photo direct exposure light artificial spectrum 5000 lm

design realization hervejpchotard@gmail.com - with meteorite-mars.com.

Friction in the Earth's atmosphere
Vincent DESLANDES site de photos du ciel https://www.astrophotometeo53.net